A coterie of idlers met at The Bell, Winsham at the invitation of Wendy and Stellan, our sherpas for the day. Bob arrived in the sleepy village and sought the local shop; Joe arrived to find Bob in the middle of the road.
They were slightly concerned as they entered the pub to see some people dressed for serious walking but were soon reassured that they were nothing to do with the idlers.
Wendy ,Stellan and Rik arrived and food and drink were ordered. It seemed that pies were the Bell's speciality, so pies it was.
Fortunately our hosts took to Oz and supplied him with treats ; Bob was pleased he didn't have to guard his seat and pie this time.
Stellan relaxes, looking suitably attired.
Our Sherpas told us we were to visit two Iron Age hill forts which were very high up , but it would be alright because the second one had a road right through the middle of it and the views were fantastic. Pamphlets and poems were produced concerning the Dorset hill forts we would see and what their significance was. The poem was in a different language that not even Stellan could understand. Rik explained that if someone said 'something was alike as Pilsden Pen is to Lewesden Hill ' then it meant that they were completely different. Bob thought there might be more to it than that and wondered what would happen if you put it into that google translation site on the internet.
Bob produced some of his treasures. Some iron age pottery and some Samian Ware. Rik asked what the difference was. Bob said one was thick and blacky, the other was thin and browny. He also showed his Neolithic flint awl which was found at a sacred site; luckily it behaved itself this time.
The donkey was consulted and it said we should go.
First stop was to glimpse Racedown House, home of the Wordsworths for two years. They had to walk 8 miles to buy a stamp.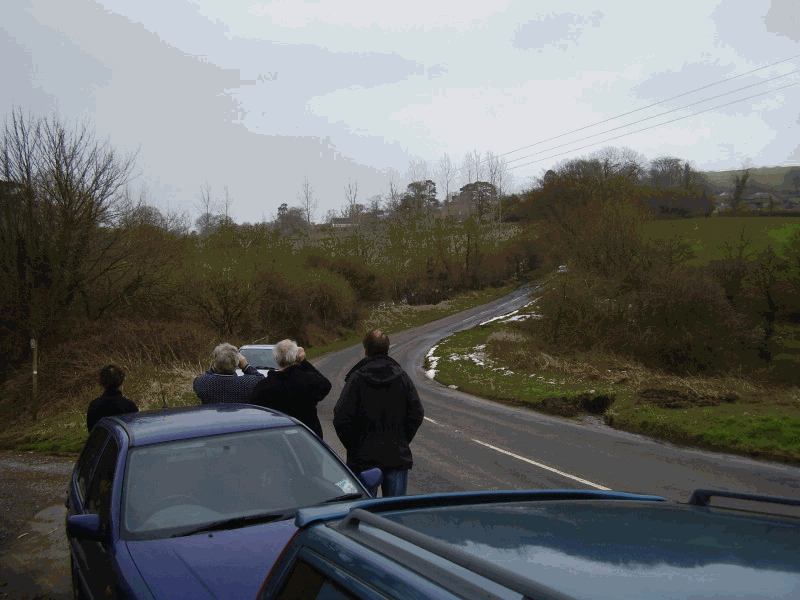 The house was built circa 1750 by J.F.Pinney with slave money. The Wordsworths were not happy in Dorset. They came to Somerset instead.
Pilsden Pen is over a 10000feet high. Luckily the car went most of the way.
Twas a difficult decision at the top whether to take the outer rampart route or the inner one.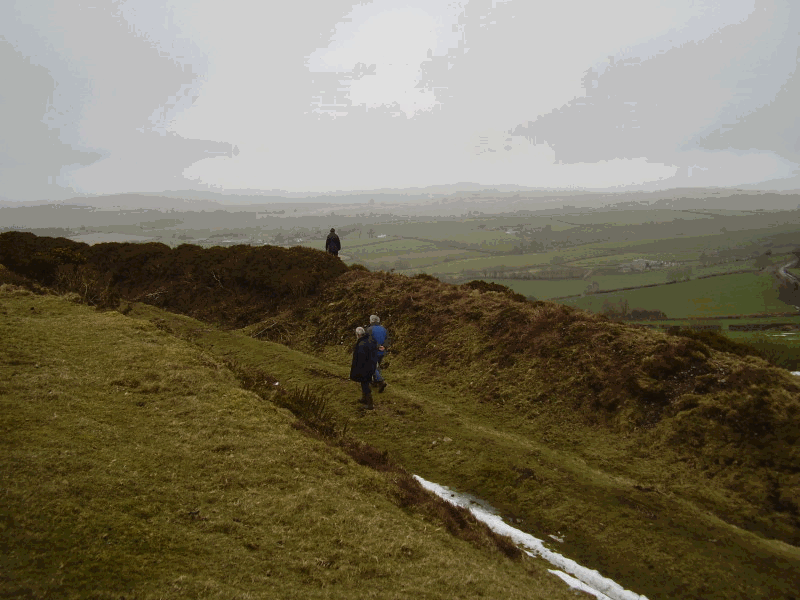 Rik and Joe decided the best route was just straight across!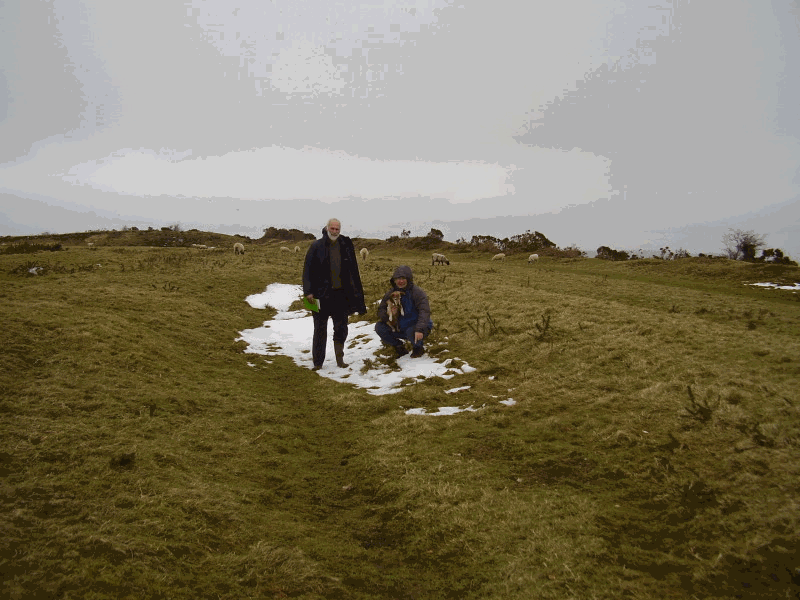 Alas the views were nowhere near as good as they can be.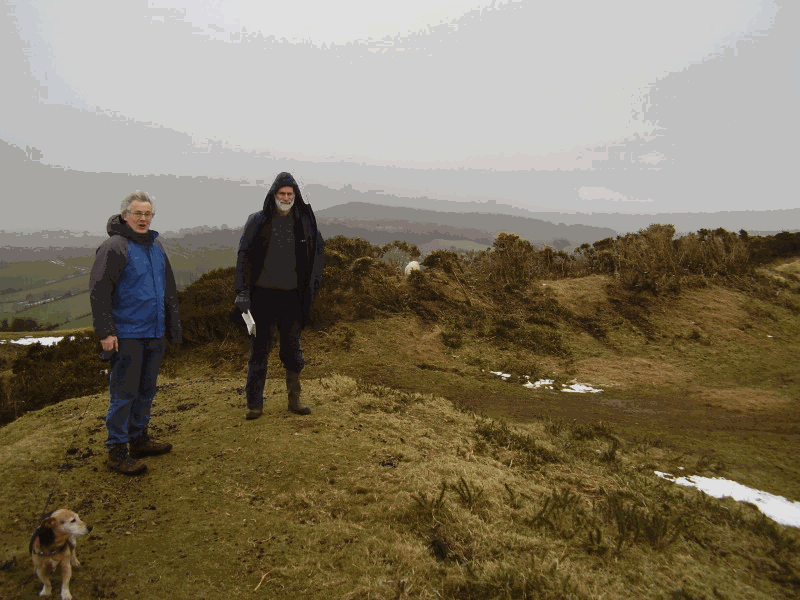 But with Joe and Rik about to be launched backwards by a full force gale we could still see Lewesden Hill behind them.
We did feel that Nick could have come and brought his lambs with him, but they would certainly have been embarassed in the fashion stakes.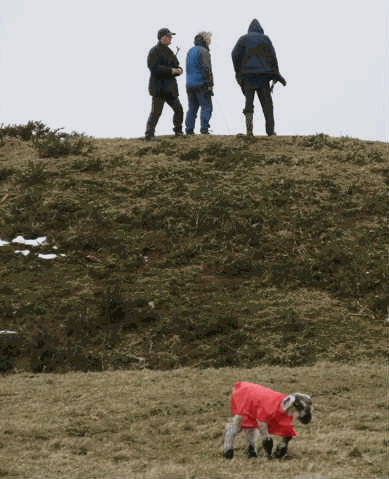 OK. So lambs wear plastic bags of different colours. In Dorset. OK so you just had 10 inches of snow two days ago. But you could just walk down the mountain a few hundred feet and be warmer and find the farmer's hay to eat. I think maybe humans are cleverer than sheep after all .
But , hang on , Is this the shepherd ?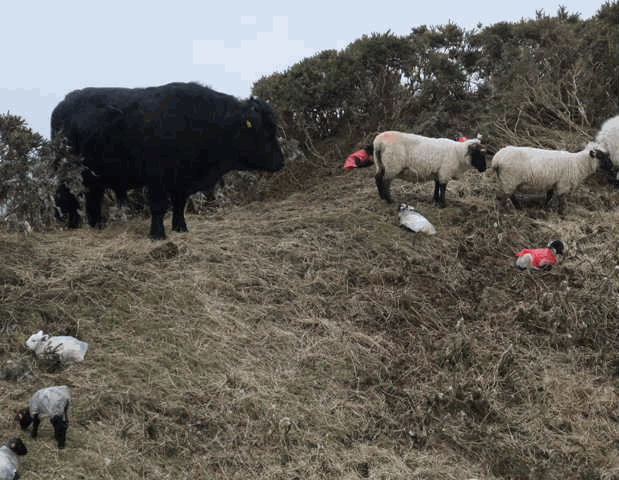 OK, so if this is the shepherd , Why would you wear red coats?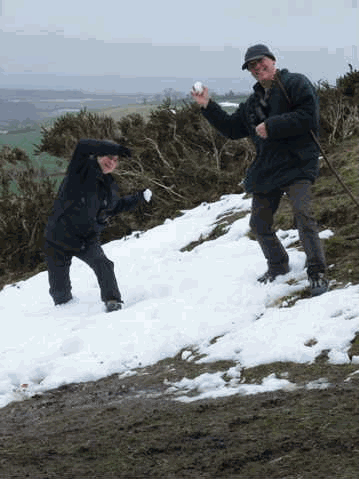 Never mind. We ran from the bull and threw snowballs.
To keep warm.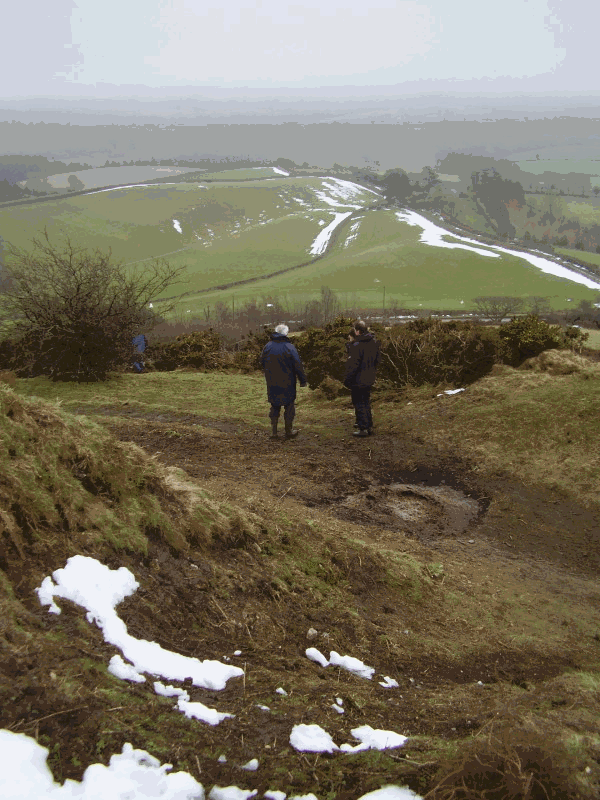 So off to Coney's Castle.
The Road went right to the top and as we set off round the ramparts the view over to Pilsden Pen was superb.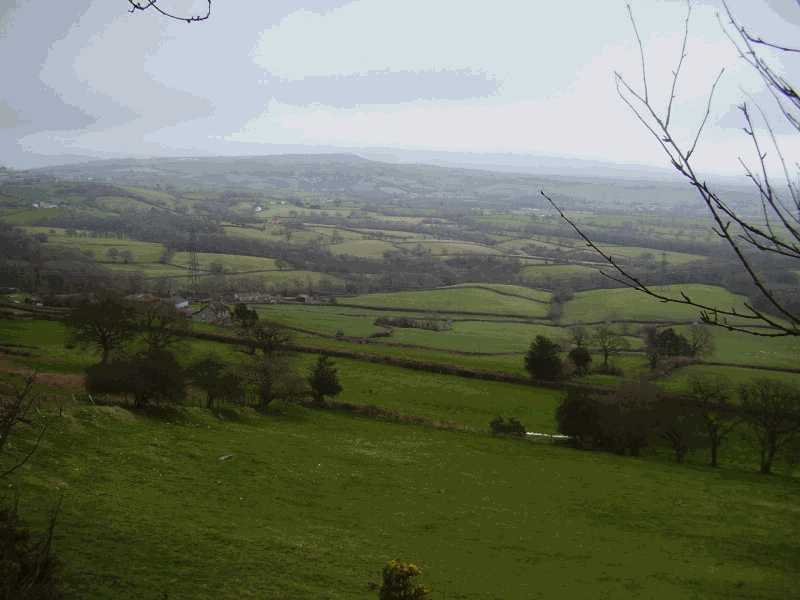 But for just 5 mins until the cloud descended leaving us in a very atmospheric mist.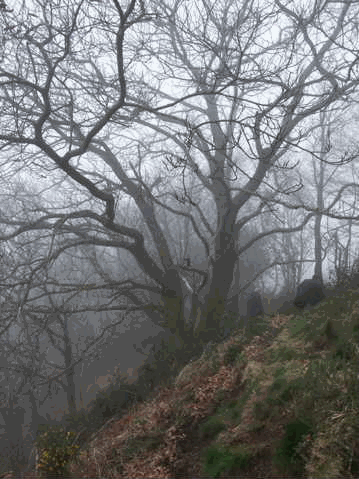 This walk would be a piece of cake.
Stellan announced it was time for tea.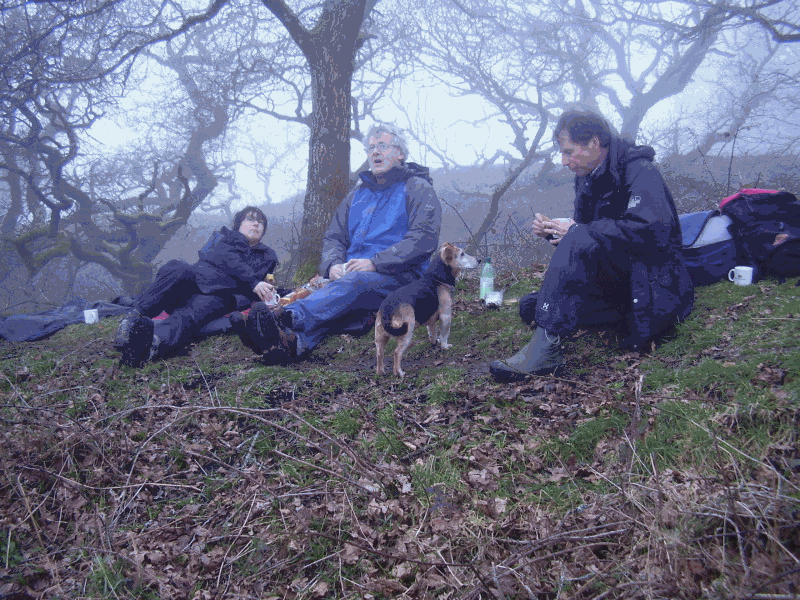 While Joe practised his oratorical skills in Swedish, the rest of us partook of saffron cake of a colour to shame the daffodils if they had yet flowered. And tea and coffee and homemade Swedish biscuits, which had travelled well. All eaten out of napkins adorned with elks. There was talk of palisades and woad.
Now revitalised our trip around the hillfort continued. The drop round one side was sheerawesome. Rik announced that he was going to see a man about a dog. Puzzled, the rest of us carried on. Rik did not catch up. We whistled for him. A girl with two dogs had not seen him and clearly would rather have not seen us either!.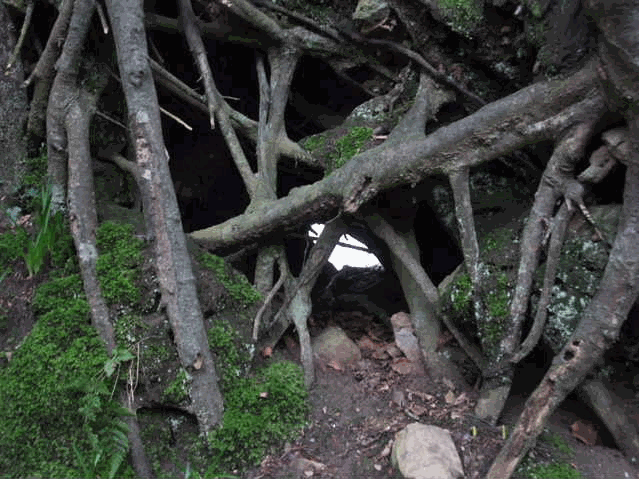 Suddenly it felt that we were in Middle earth and why did they bother with New Zealand except to put it on the tourist map for gappers.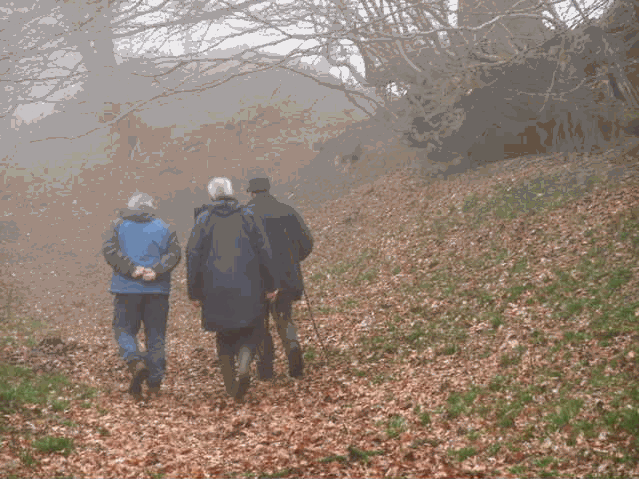 But which one is Gandalf?
--------------------------------------------
Strength in Idleness
-----------------------------------------------------------------
Clearly this idle was inspirational for it resulted in two literary pieces.
Inspired literary works by Idlers.
Idle thoughts on Coad(e), woad and plungeons
Idler's club competiton: add 10 verses - or none at all - before you see the next starling
from Crazed on cardamom
Now did Coade, on his way to join his
Supreme Commander, Monmouth,
pause and peep at the fair prospect
as he crossed each Dorset hill?
Did he gaze out from Pilsdon's wintry scene
or Coney's wooded top
and wonder at the Duro-trigic
strategic's warfare skills?
What weaponry they used and
Were they wearing woad?
Did he realise from his dungeon
That they were doomed
as they crept across the Levels
to loose that vital plungeon?
That really they would have been
best advised
to secure their stronghold
by simply idling on a Dorset hill,
inventing Coade-stone balistics
and admiring the view
in anticipation of poets yet to come?
And did either he or Crowe have any thought
of a future when electric pylons
would march across the coastal view,
Ordnance trig points dot the hills
and lambs might wear -
pink plastic coats??
From Wendy and Stellan.
Not a verse, but a little story. Joe

Dorothy was toasting her toes - and two crumpets - in front of a blazing fire, feeling at rest after a brisk eight-mile march to post a letter in Crewkerne and an eight mile march back. William had not come with her. He was writing a poem - or so he said. Upon her return, he was still gazing out of the fine Queen Anne window of the house they had rented, neither in view of the sea nor Lambert's Castle, and she noticed that, although she had been gone for most of the day, he had still not written a word. She knew better than to disturb him further. He had a familiar agonised look upon his face.

Eventually he descended the stairs two at a time on his long legs, drawn by the smell of the crumpets. But she had eaten them both.

"Ah, my dear sister, at last I have made a beginning. It is to be a longer poem, set in the misty future, perhaps more than two hundred years from our present times. I envisage a time when lovers of literature may wish to come past this house to see where I stayed ..."

"You mean, dear William, that your poem will concern your future fame, your place in the pantheon assured ....?"

"Yes, Dorothy. I do not suppose you purchased any more crumpets in Crewkerene?"

"Alas, no."

"Alas, indeed. I am always famished when at last I have put pen to paper. No mind. Bread will suffice, and cheese, I suppose."

"And this poem you have embarked upon is set, you say, two hundred years hence?"

"It is, my dear. It is set here in Dorset, and Devonshire, and Somerset, too. I foresee great changes. Men will fly in the skies, and speak to each other when miles apart ..."

"How so?"

"I am not certain. I believe there will be infernal machines for the purpose. Coade stone will be no more, but cider will still be drunk. Yes, and men and women will still walk the hills as we do, searching for greater meaning, eternal truths ... "

"Like dear Coleridge?"

"And those upstarts, Keats and Shelley. Oh, and the dreadful Byron, too. They are mere followers where I have led - but I forgive them, for they wish to indulge in soulful pursuits, such as we have done, and who is to deny them that? What I am saying is, even in the year two thousand and beyond - try to imagine it, as I am - there will be a few souls (a select few) who wish to stand aside from the gaderine swine, the rush of the world. I see a time in Spring when they will gather idly, I see daffodils - a host of golden daffodils - on these very hills, which they will admire and find solace from ... "

"Yes, William. And will there still be crumpets, do you believe?"

"Oh, no, my dear. Crumpets will be quite extinct. As indeed they are in this very house."

"I could walk to Crewkeren again. I could raise the baker from his sleep. It is only eight miles. I would be back by midnight, William. I know these roads by now.'

"Would you, my dear? That would indeed be kind. Meanwhile, I will return to my writing desk. I feel another verse arising. In the future, I see a Viking amongst the throng - a Viking who can cook cakes, yes, cakes the colour of daffodils ... delicious."

"Ah, William, you have always had such a strong imagination."

From Joe
---------------------------------------------------------------------------
We propose meeting at The Bell, Church St, Winsham, (c 4 miles SE of Chard on the B3162 ) at our usual 1 p.m. This is a nicely unglamorous village pub, serving real ale and with a reasonably priced lunchtime menu suggesting simple sandwiches to homemade pies.
From there it's a simple drive over the Dorset border to Pilsden Pen - passing, just visible if you crick your neck (but better seen coming home from the opposite side of the valley), Racedown House (home of the Wordsworth's for a couple of years – thou Dorothy doesn't seem to have bothered to write her diary then).
Pending the weather, the views at Pilsden are worth a decent length of time – with plenty of other Iron Age Forts in the view: Lewesdon, Lamberts and Coney's. In fact we've spent bits of the last two weekends on rather a rather pleasant extended pub-and-Iron-Age-hill-fort crawl. In the process, we found - to our horror - that our favourite location, Stoke Abbott, has decided to have the annual Stoke Abbott Winter games on our idling day!!! Very cheeky. So what with the road closed, and pub, paths and Wadden Roman Hill Fort likely to be still swarming around lunchtime with highly active joggers and ramblers, this part of our excursion may be best left to later in the afternoon - or even another time depending on idleness.
Look forward to seeing you on Saturday
Wendy and Stellan


No virus found in this incoming message.
Checked by AVG - www.avg.com
Version: 8.0.237 / Virus Database: 270.11.5/1978 - Release Date: 03/01/09 07:04:00